Hello everyone, hope you've all had a great weekend!
I didn't really do much - just work on Saturday morning, then I helped my mum get ready for her work Xmas party in the afternoon. She asked me to do a makeover so I just curled her hair, did some simple makeup etc. Then I went for a run in the evening and we got pizzas for dinner. They gave us the wrong pizza so I had to drive back to the pizza place to get the right one - how annoying!! But they let us keep they wrong one, so I guess we got a free pizza out of the extra trip, haha! And we watched a movie called Laputa Castle in the Sky. It's a Hayao Miyazaki movie (Japanese animated movie), from the same writer director as Totoro, Spirited Away, Howl's Moving Castle etc. It was a little bit weird, but it had a nice ending.
Then today I went for another run, although because I was a bit lazy and was just bumming around this morning I didn't go until about 1.00pm and it was so hot!! I was drenched in sweat by the end (TMI? Sorry!) and almost tempted to collaspe on one of the many hard rubbish collection couches or mattresses along the street (it's hard rubbish collection time in our suburb) although they would probably be full of bugs/spiders so I resisted the urge.
Then I drove to Greensborough to pick up my new sunglasses/help my sister pick some new frames for her glasses/pick her up from work.
My sister had a voucher from her work for 50% off at Sunglass Hut, so I got these Versace Sunglasses.
Versace Sunglasses
They just have a small Medusa logo on the side. I'm not keen on sunglasses with giant diamonte logos plastered all over them (to me, they look tacky), but I think the logo on these is not too big that it screams designer.
This is what I wore today (I have no idea why my feet are turned in the opposite direction of the rest of my body, haha!):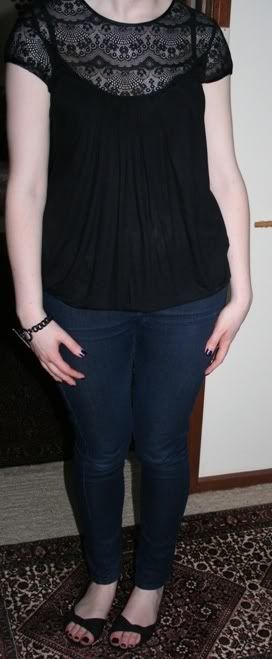 Sunday Outfit
Top - Jeans West; Jeans - MNG; Shoes - Rubi; Bracelet - Mimco
Thanks for reading, have a great week everybody!