My interest in makeup and perfume is relatively recent (last 2-3 years) and I have amassed a reasonable collection in this amount of time. I'd rather not think about how much I've spent haha! I think in the beginning I was very "noob" about it and tended to go for quantity rather than quality. Also, as I was very new to makeup, I tended to buy a lot of different brands just to try them out. Now, I'd rather narrow down my collection to a smaller amount of products which I really enjoy using and use on a regular basis. Also, I think my tastes, especially in eye makeup, have changed. I used to wear a lot of colour and now I'm much more into more natural looks. So some of the products which I have now don't really suit me any more. I'll still probably purchase mostly "drugstore" brands (e.g. Revlon, Maybelline, Covergirl etc) as I'm still at uni and on a very limited budget, but I would like to save up for a few "splurge" type purchases as well. Also, being in Australia, even brands like L'Oreal and Revlon get expensive (relative to my teeny-tiny uni student income). "High end" brands (department store brands like MAC etc.) are just hideously expensive (unless purchased over the net – hooray strong Aussie dollar!)
I've gotten rid of a lot of things through the Vogue Forum Free for All thread (I like the idea of things I don't want finding a new home rather than me just throwing them in the bin). Perhaps the next time I do a cull I will do some kind of blog give away.
As a way for me to curb my spending on makeup, and also use up some products that have been lying around for a long time, I've decided to undertake Project 20 Pan (inspired by the Project 10 Pan, which I believe was coined by lollipop26 but has since been repeated in some shape or form by just about every beauty blogger). So I am committing to not buying any new products until I have used up 20 items which are currently in my collection. I've decided that the items may include makeup, perfume, nail polish and skincare, but not things like shampoo/conditioner, soap and face wipes etc (as I have seen on some blogs....seriously, what next? Toilet paper??) The only exceptions will be if I completely run out of something (I think I may possibly run out of lip balm, but that's not a very expensive item anyway).
I'm hoping that as well as helping to downsize my collection, this spending ban might also help me curb my addiction to buying new things (and save a bit of $$ as well).
So, after all that, what have I used up so far?
1.

Natio Ageless Brightening Eyecream
2. Vera Wang Princess Perfume
3. Nivea Light Kiss lip balm
My thoughts on these products:
Natio Eyecream – I really liked this and will probably re-purchase after I've finished P20P. It has tiny light reflecting particles, kind of like glitter, but not actually glitter. So it gives a kind of radiant look without making you look like a disco ball.
Princess Perfume – I love this perfume. I bought it in a 30ml to use as my "handbag perfume" and I get a lot of compliments on it. I bought a 100ml as a backup and am going to try to decant it into the 30ml bottle so I can keep it in my handbag (I don't fancy lugging around a 100ml bottle of perfume in my handbag). I would really recommend this fragrance, and best of all, it's pretty cheap! If you can get it on sale (at Priceline or My Chemist etc.) it's usually around $30 or 30ml or $50 for 50ml.
Nivea Light Kiss – as I mentioned in the tag questionnaire, I didn't really like this. I think I bought it because it was on special at Priceline for like $1 or something. Anyway, I'm not a huge fan of pot lip balms as I think they're not very hygienic and you always get balm under your fingernails – gross! Also, this seemed to separate after a few days of using it and had these funny little grains (of wax, I think) in it. Remelting in the microwave fixed it, but I had to keep remelting it every week or so. I definitely wouldn't be repurchasing this (I think it might even be discontinued anyway).
The empties: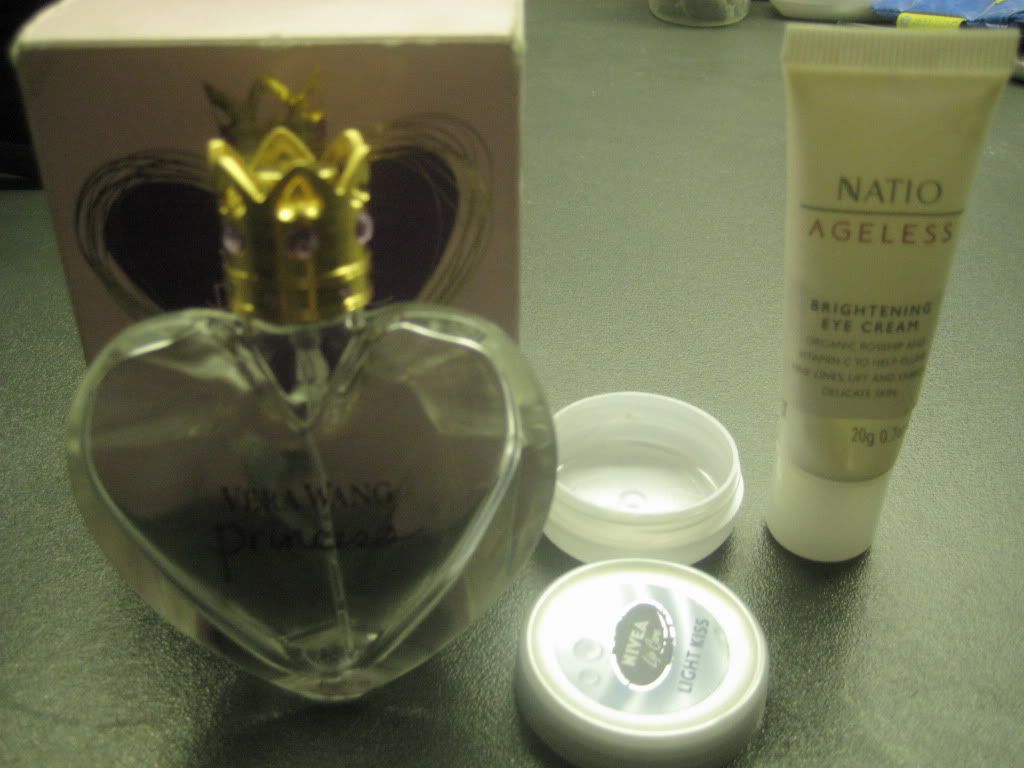 I cut the Natio Eyecream tube in half to get the dregs out of it - this is a great idea for making any products in tubes last a little bit longer. I usually find I can get at least another week's worth of use out of things by cutting them open.
Phew, that was a long post. Thanks for reading (if anyone made it all the way to the end haha!)