Hello everyone! Just a quick post tonight to share my thoughts on the latest three items I've finished for my Project 20 Pan.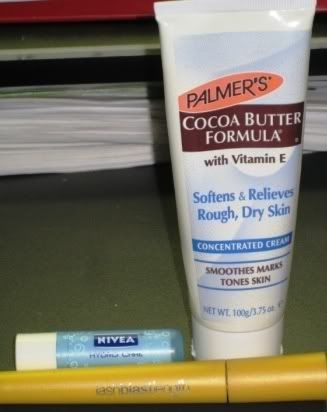 Nivea Hydrocare Lip Balm; Palmer's Cocoa Butter Concentrated Cream; Covergirl Lashblast Length Mascara
Number 15 was a Covergirl Lashblast Length Mascara in Black Brown. I usually alternate between a brown mascara for more natural looks and black if I go for something more dramatic/evening-ish. And if I'm feeling lazy and skip eyeshadow altogether, I'll just use a brown mascara to darken my lashes a bit. I quite liked this mascara - it gives good definition (a must for me) and really just makes my lashes darker and longer, without making them look much thicker. This is pretty much my exact criteria for a good mascara (I don't like the look of really thick lashes on me) so I will be re-purchasing this for sure.
Item number 16 was another HG product of mine, Nivea's Hydrocare Lip Balm. I don't have a backup of this so I was hoping it would last until the end of P20P. At the moment I'm using a Palmer's Lip Butter to tide me over until I can repurchase a Nivea one. It's very moisturising but without feeling sticky and I like the tube style packaging (more hygenic than dipping your finger into a pot and getting lip balm under your fingernails...yucky!), it doesn't have a fragrance (I dislike overpowering fruity fragrances lip balms) and I have been through more tubes of this than I can remember. The only downside is it doesn't have SPF so I tend to use this during Winter and then in Summer at night, but switch to an SPF balm during the day in Summer.
Number 17 was a Palmer's Cocoa Butter Concentrated Cream. I was using this as a hand cream after the Body Shop one ran out. It is nice and moisturising, like most Palmer's products I have found, however can take a while to absorb into the skin and can leave a bit of greasy residue. Also, the fragrance of this is quite strong. I do generally like Palmer's products, but probably wouldn't repurchase this particular cream as I found the "concentrated" formula to be too greasy. For a cocoa butter product, I would prefer something with a more "lotion" like consistency.
Not long to go now- only three items!! Although, to fulfill the requirements of at least 10 makeup items, all three remaining items have to be makeup! I'm almost finished another perfume though, and am quite a way away from finishing any makeup so perhaps I will end up doing project 21 or 22 pan.