Hi everyone,
On Friday I made another trip to Daiso, this time with my sister! We had lunch in the city first (at a Malaysian restaurant in QV) and then hopped on the tram out to Abbortsford. There was quite a bit more stock than Thursday's trip, but there were a lot of unpacked boxes in the aisles and still quite a few empty shelves.
I bought some gift bags (for Xmas, birthdays etc.) and some origami paper.
Japanese gift bags and origami paper from Daiso
My sister bought an umbrella, some wrapping paper, gift bags, origami paper, oil blotting sheets, a little key charm thing and some little felt decorations for craft projects.
My sister's purchases from Daiso
Click on the jump at the end of this post to see the rest of my photos from Daiso!
Then after Daiso, we had dessert at Passionflower. The menu is so overwhelming, I wanted to try about five different things!!! And they let you taste the different icecream flavours before you decide what you want to order!
I ended up ordering Tiramisu, which was nice but I was feeling a bit sick by the end because it was so creamy.
Tiramisu - Passionflower
My sister had banana crepes with sticky rice and coconut icecreams. The sticky rice icecream was ok (it actually has grains of rice in it!) but the flavour was a bit meh - just a generic sweet flavour. She said the crepes were nice though!
Banana crepes - Passionflower
Look at all the different icecream flavours!! They have lots of Asian inspired flavours like sticky rice, red bean, jackfruit, green tea, durian, black sesame etc. I tried Kumquat and Wild Lime Sorbet.
Passionflower
On the way back to Melbourne Central to get the train home, I bought these shoes from Cotton On. I think they will be cute for Summer! You can't see all that well in the picture, but they have little bows on them.
Flats from Cotton On
It was sunny so I wore a summery top, but it turned out to be freezing, only about 20oC or so. Lucky I brought a cardigan as well!
My outfit for the day
Top - Dotti
Cardi - Quick Brown Fox
Jeans - MNG
Thanks for reading!
P.S. - don't forget to vote in the poll I have going in the side column to give your input of what you'd like to see more of on my blog!
P.P.S. I took a heap of photos in Daiso, but I didn't want to spam you all with them, so click on the jump to see the rest of my photos from Daiso!
Daiso entrance
Stationary
Hair accessories
Confectionary
Hair brushes
Foam hair curlers that look like tennis balls!
Ceramic mugs
Storage containers
Fold up shopping bags
Gift bags
Washcloths
Cookie cutters
More stationary
Even more stationary
Sponge ball firing gun - I wanted to get one of these!! But I didn't, hahaha!
Children's toys
Coat hangers
Hilarious banana bag
Umbrellas
Face blotting papers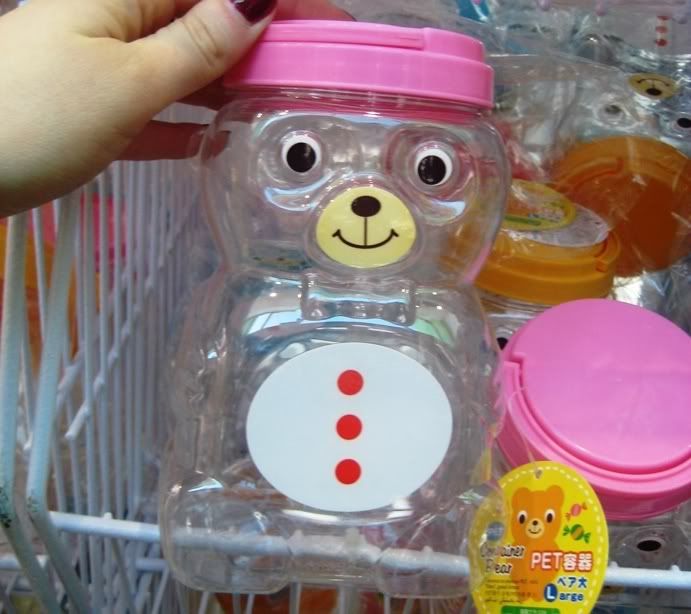 Cute jar that I wanted to buy but would have no practical use for